From dragging yourself out of the bed to driving the car at a speed as low as 20 km/hr, Pokémon Go literally gave insanity a new definition.
For some reasons it all makes sense!
According to a data updated on 4th of April 2017, there are 5 Million active users everyday playing this game.
Since the day in June 2016, when the game was launched in New York, I don't think unless you have lived a lifetime in Plato's cave, you will be totally heedless of it.
Well, my point in writing this piece is to help you make a better decision while building an application.
I guess you are not someone who doesn't want his/her android/ios/web application to fail its purpose.
It is a matter of both time and investment in getting one made!
And, it's never a bad idea to understand the trends.
Source: Google
So, here are the Five major reasons for Pokémon go's popularity:
1. AUGMENTED REALITY:
While Augmented Reality has existed since some time. It was introduced way before the release of Pokémon Go.
However, Pokémon go was the one game, which gave a hands-on experience to millions of AR.
The point is it obligates the user to actually live a life once fantasized.
As children, we have all been having our own version of a fantasy world. Some imagine having found the platform 9 ¾, while some did household chores thinking of themselves as Cinderella. Well, here, the imagination becomes your reality, you are a Pokémon trainer, the one at a gym taking up live fights, catching great Pokémons, and actually working for it.
This is more like sorcery!
You simply cannot get your eyes off the game.
Didn't you hear about the girl who got hit by the car while playing Pokémon go?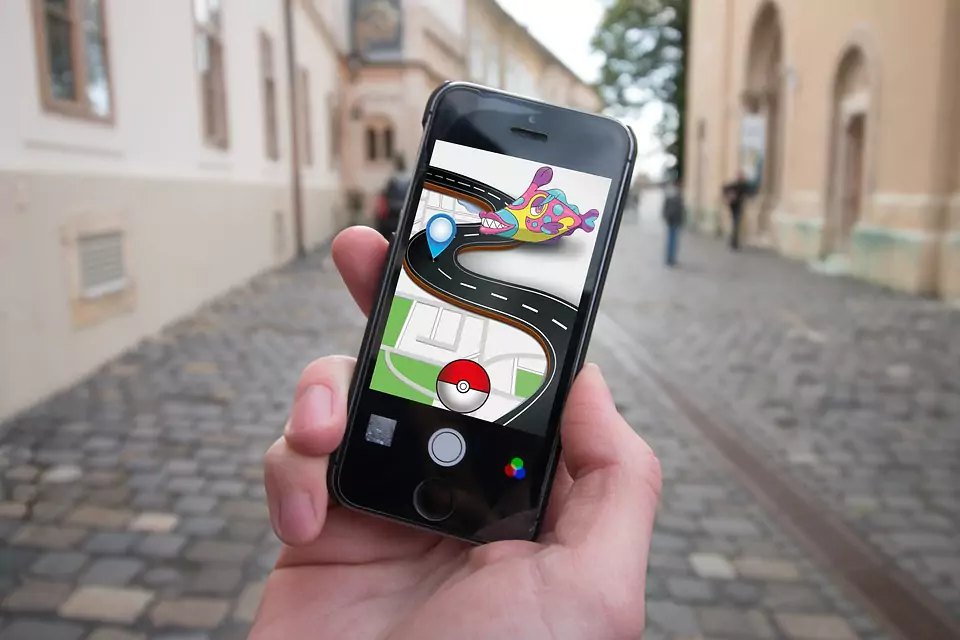 Not just for gaming purposes, you can make use of this business boosting trend for your application. But for that, you need to contact our experts to know the details, because, I am not the right person to scribble it down.
2. FUELS NOSTALGIA:
Let me share a personal experience while playing Pokémon Go… I promise to make it sound interesting, and well, it is anyway.
So, I am not a gamer.
Not even a little, to be precise.
However, on the recommendation of my roommate I gave this a shot.
As Pokémon Go installed, and I saw the pretty graphics I was in a whole different zone.
During the childhood days, my breakfast was usually accompanied by Cartoon Network. Pokémon was my second favorite show, right after Tom 'n' Jerry. Well, I can bet late 80's and 90's children can totally connect.
The app made me take a sip of the childhood memories when happiness was Ash winning the match and team rocket facing another funny defeat.
Fellows, I bet if you have been a fan, you know what I am talking about.
With the halcyon days of the past taking over, I could totally feel as a Pokémon Trainer.
A guy, while playing Pokémon Go, painted a dog as Pikachu, and for this gained huge attention!
Pokémon video game franchise has sold more than 260 million games worldwide.
The Pokémon trading card game has shipped more than 21.5 billion cards to 74 countries in 10 languages.
Now the 'Go' trend indeed gave success a new level.
ALSO READ: 5 Reasons to choose Custom SAAS apps.
Source: Google
3. MAKES YOU WALK A MILE EXTRA:
It is human tendency to feel a happier for a reward when they work for it.
Don't you think salary is adored more than pocket-money?
Now you know what I am saying.
Getting rewards in a game, gives you an endorphin rush, and trust me, mine was followed by an adrenaline rush.
The Pokémon hunt made people walk miles.
Well, this is good for health as well.
Not many people are a health freak otherwise.
Spelling it out for you…
People try out the gym, but it gets a little hard to continue after some time. What if you got rewarded for the same?
Health is wealth, nevertheless, working out isn't everyone's cup of tea.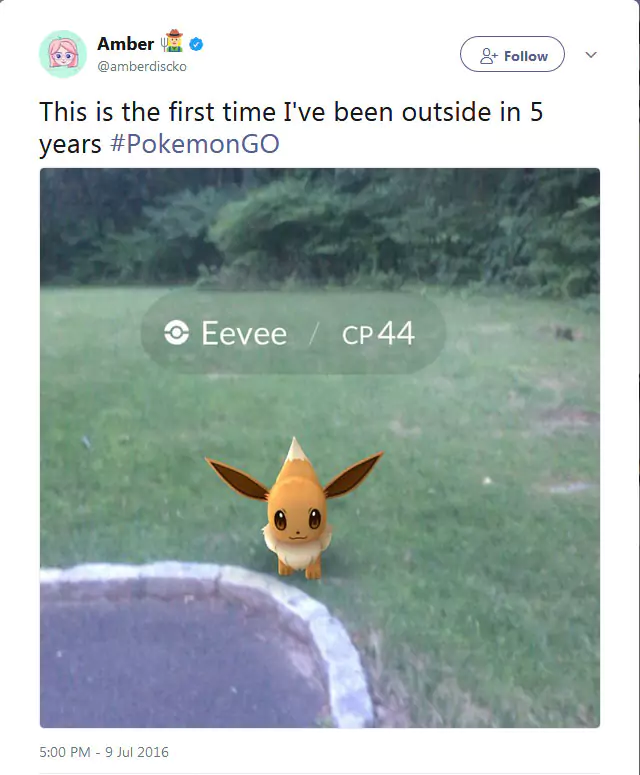 Source: Twitter
4. HIGHLY ENGAGING:
Having to be easy to use, it is loved by millions.
All you need to do was catch a Pokémon when you see one. The hard part was doing the hunt.
There was a substantial increase in the games' lovers across the globe and the addiction as well.
We could see people walking down the street with their eyes fixed on the mobile screen, more than usual.
Discovering fantasy species that are hidden in the real world is indeed something people never tasted before.
Pokémon Go was a perfect blend of innovation mixed in augmented reality.
Hats off to the creators… What an idea Sir!
At first, you collect gadgets to catch Pokémon. Then you catch Pokémon and more of them.
Then you have gym battles, and raids.
It all forms a compulsion loop, obligating the gamer to stay active.

5. HELPS YOU GET SOCIAL:
I heard a joke some time ago, and it goes like…
In 2040, a couple is sharing their love story, and the wife begins as "I found your dad hunting for Charizard in the rose garden down the street. We had our first face off there."
Man, "It felt like cupid had it all planned."
Okay, not so funny, but yeah it could happen with the kind of craze that is still going on.
The game also had a feature where you can trade Pokémons.
Interesting, isn't it?
Recently ASUS introduced an Augmented Reality Camera with Google's Tango. You can read the full report by The Hindu.
So, concluding myself here, to have a successful application the success of Pokémon Go is a fine pedagogue. All you need to be is a little creative and make yourself stand out of the box!
I will be writing on the topic, why is cloud driven taking over the app development market?
Stay tuned!