In 2019, nearly everyone has a superb mobile app idea that they believe can change the world.
But only 1% of these ideas will see the light of the day. Not because people don't have the resources to turn their ideas into reality, but because most tech entrepreneurs start with no knowledge of mobile app development.
Mobile apps such as Snapchat, that were overnight successes are very rare. Most mobile apps take years to hit the 1 million downloads mark and sustain a business that can keep them rolling.
Top reasons why mobile Apps fail
The entrepreneur has an idea but the vision is unclear.
The developer has a poor grasp over the idea of the app.
The entrepreneur doesn't know which technology stack to pick, and the developer is not foresighted enough for the same.
The app's business model isn't well thought out.
The market isn't ready for the app.
This could be one of the reasons for the failure of your upcoming mobile app.
Therefore, if you're a tech entrepreneur with a great mobile app idea, you need to be well conversant with the world of mobile apps.
At Dikonia, we're a mobile app development company with about 6 years of experience in making successful mobile apps. Hence, we have put together for the ultimate guide that every young tech entrepreneur and mobile app enthusiast must know before they begin developing their mobile app.
We have covered all the main aspects of the process, namely
The market and trends of mobile apps
The business ideas that are fresh in the mobile app space
The business models that mobile app generate profit from.
Dive right in to get all the necessary information for which, you'd thank us later!
Mobile App Trends in 2019 
Mobile apps have changed a lot since when they first arrived on the scene with the release of Smartphones. As innovation sprouts, new features and functionalities make their way into Mobile Application Development landscape.
The greater part of 2018 was dominated by the advancements being made to the hybrid application development techniques such as Ionic and React. These technologies offered a cost-effective and fast-paced mode of application development best suited to Small Businesses and simpler mobile apps.
But as we move into 2019, the competition in the mobile app market is going to be fierce than ever. A report by Gartner stated that the end of 2017 recorded a net sale of 408 million units of smartphones. Whereas, another report by Statista forecasts the number of smartphone users to reach 2.7 billion in number.
We know that we're dealing with a huge market here and each trend can make significant differences in the making or breaking of your business. So, here are the carefully chosen trends that will take effect in 2019.
IoT
The recent advancements made in smart homes, smart health care and automated shopping stores launched by Amazon are all a result of the Internet of Things.
The industry is making giant leaps each year with better solutions to offer to its takers. The most prominent examples of IoT apps are the smart home devices and home automation technologies being pushed by all major tech companies.
The Samsung Smartthings App is aimed at controlling several of Samsung's proprietary smart devices which includes, TVs, Refrigerators and even Washing Machines.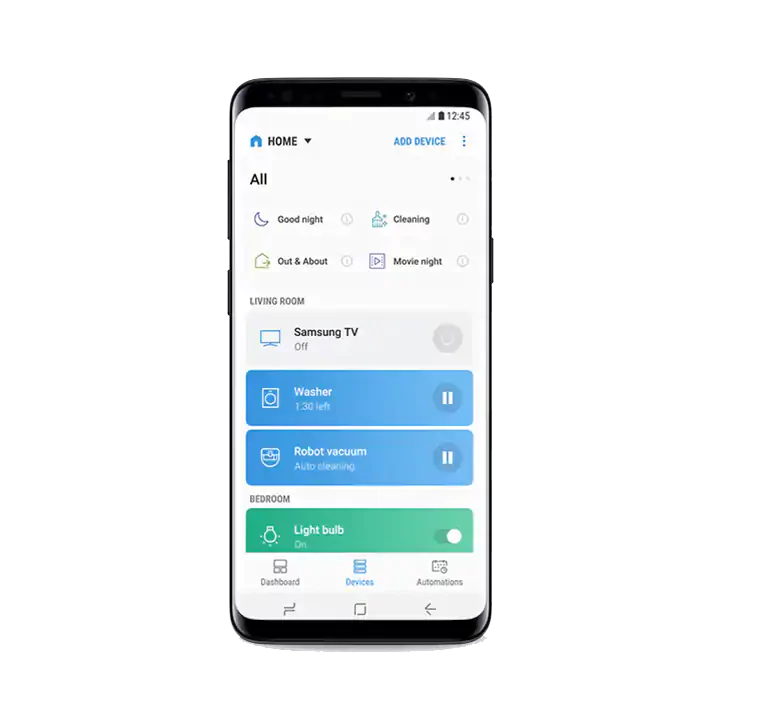 Be ready to see more of these smart home products come to reality in 2019 and mobile apps to control these devices would also be launched.
The main focus of these Apps would be to boost supply chain management and automate Business Process Applications.
Native Approach in Application Development
While we saw tremendous growth in Hybrid Mobile app development in 2018, the questionable business viability of these apps and performance issues still persist.
Therefore, the top tech companies thought of integrating the magic of hybrid with the consistency of Native Apps. We got some pretty useful frameworks for application development such as React Native and Flutter as a result.
These technologies offer the fast-paced development speed promised by hybrid platforms and the reliability of a native app.
This is simply because, both Google and Apple, the current dominators of the smartphone OS terrain, have started rolling out platform-specific features. This means that, even with the help of API calls, certain features simply can't be put in a hybrid mobile app if it doesn't share a native code base.
Also, mobile app startups and developers have realized that a huge compromise can't be made on app performance. Native is the clear winner whenever performance is concerned. Hence, we will notice a larger shift to native development in 2019
Increasing User Engagement
If you're using a digital wallet, a food delivery app, or an e-commerce app in your smartphone right now, what is the one thing that they keep notifying you about?
The sales offers!
All major companies who have a mobile app to sell their product are heavily investing in increasing user engagement. They're doing this by offering tons of loyalty programs, offers, and discounts, to keep you hooked to their app.
After user attention, user engagement is the first thing that the competitors are fighting for because that's the only thing that'll keep them relevant in such cut-throat competition.
We'll see more examples of clever marketing tactics in 2019 to harness user engagement, that contributes to the ultimate goal of bigger business conversion.
Streaming Services 
Got a Netflix subscription yet?
Well, if you didn't, know that 137 million people did by the end of 2018. We saw true disruption in the video entertainment industry by OTT (over the top) streaming services which made people ditch conventional television and even cinema.
As as a result, the key players in the Cinema business are now working to create content that generates a dedicated online viewership.
All of this signals a rise in streaming services apps. We'll see more startups jumping on the bandwagon to offer affordable streaming media services to new adopters in 2019.
Live.me and iFlix, are the two most noteworthy companies who emerged in response to the rising popularity of media streaming apps.
Augmented Reality 
After much wait, the AR industry is finally making some progress to offer the consumers some true benefits.
Much later after the release of Apple's ARKit and Google's ARCore Kit, the real apps that came out, are hard to name. But just recently, Amazon has taken the forefront in bringing AR Shopping experience to its consumers using the Amazon AR View functionalities.
Shoppers can see the AR images of products that they want to try out in the setting of their home using their smartphones.

This is one of the first substantial uses of AR technology and the scope is far and wide. It's not long before more competitors in the tech space make jumps to release their own AR apps to power the digital shopping experience. If you're thinking along the same lines, now is the time to act.
Fresh Mobile App Business Ideas You Can Consider
Mobile Apps have given way to some of the biggest businesses of all times such as Uber that is valued at $72 Billion as of 2018.
With a smartphone in every other hand, an app can act as a great playground to build a winning business from scratch and take it to the next level.
Building an app is no more a challenge today. It has been greatly simplified with the help of abstraction techniques and more talented programmers joining the league. We at Dikonia, have created 10 successful mobile apps that are business ventures in their own.
So, how do you create an app that can earn billions one day? It starts with an idea. Putting code to the idea is not as difficult as putting the idea to the code. Once you have a smart idea that can solve a tricky practical problem and operate via a smartphone, you have a business in your hand.
Talking of ideas, we have seen a lot of wild and imaginative ones in our career as a company. Let's see what all of them are the best for your mobile app startup in 2018.
A Niche Marketplace
E-commerce is undoubtedly the biggest business source online right now. Reportedly, 1.66 billion people bought something from an online website in 2017, which will grow even more.
So, why not create an app based marketplace for people to shop for niche products? Seems like a good idea right? It is. All you need is to isolate a certain segment of the market that has growth potential in online sales and bring together sellers of the niche products together.
Such a marketplace can attract more sales for the niche than established marketplaces like Amazon, because it will be highly specific and hence will invite a higher user trust in it.
The app can allow wholesale sellers to enlist their products at your app, from where buyers can directly shop. Following this model, you'll gain industry level business with minimal investment.
Health and Fitness
If you're paying attention to the fitness industry, you would know that the use of Health and Fitness Apps skyrocketed 330% in past three years. This makes it a hot favorite investment area for budding businesses.
These apps cater to a variety of needs such as tracking fitness levels, providing fitness programs and tutorials, delivering meal plans and diagnosing disease symptoms. Your idea can be a standalone concept or a combination of these regimes.
121 Gym is a gym companion app developed by Dikonia, that helps in a workout and provides fitness programs for gym subscribers. The app has a lot of features including progress monitoring and the ability to connect to Apple Watch.
You can design a similar app idea that bridges a gap in the market and converts into a business.
Online Food Ordering
The demand for on-order convenience apps regarding food has inflated severely in the past two years. Starting from a few key names such as Zomato and Food Panda, now there are several new options that have made a fair share in the market.
But the market has just opened. There's still a lot of scope for innovation in it and now is the time to make a breakthrough app that can claim the high-staking business opportunity.
You need not gather a whole team of workers to fulfill orders from your side. You can simply start from a single restaurant and help them obtain orders via your app. Once revenue starts flowing in, you can scale up and add more restaurants/eateries in your lineup.
We did the same for Turnip, a Swiss restaurant that fulfills customer orders via an app and has full web-based functionality to control what services and products they offer.
Industrial Solution
While many modern industrial setups have moved their workflow control to digital solutions, many traditional industries still rely on bulky computer software that manages most of their transactional work.
Such industries are in the need of automated solutions or mobile apps that can help managers control various process that runs the industry. Due to its cost-effectiveness and efficiency benefits, traditional industries will be quick to adapt to such solutions. This makes it a great idea to start working on right now.
Eviva is another app developed by Dikonia that helps a UK engineering firm to manage its internal workflow. You can take inspiration from this app by referring to its case study.
A Network
The basic purpose of a smartphone with an internet is to connect us better with each other, and what better idea could be for an app. If you notice that all popular social media giants are nothing but a networking service that helps people connect to people they like.
Similarly, you can build an app that brings together a network of similar interests, similar needs or topics. Right now, social media websites such as Facebook do this via in-built features like "Groups", but the process is not as well defined as it could be with a stand alone app.
Even dating apps like Tinder and Happn are doing nothing but facilitating easy networking among people, which acts as a strong evidence for the viability of such apps.
Business Models that Generate Revenue for Mobile Apps
Everyone in the tech space, may it be developers or new Startups, is banking on the power of Mobile Apps to propagate their business. Sometimes, Mobile Apps serve the tools for business while other times, they're the business themselves.
Consumers worldwide spent a total of $82 billion as reported on mobile apps in 2017. The figure is supposed to cross the $150 billion mark by 2022, which is a clear signal of profitability in this domain.
As Mobile App Development grows smarter, the business of Apps will also rise, giving a wide horizon of opportunity to innovate and constructive ideas. Only in 2017-18, we aided the deployment of three mobile app businesses as the technology partners.
But where do you get started? What is the best way to earn from a Mobile App? These questions are quite subjective. There are a number of business models that can be used for generating revenue from a Mobile App but it depends upon the use case a lot.
We have laid down the top 5 business models that would suit developers and development startups alike!
Sell Advertisement Space
In-App ads is one of the most widely used revenue models by individual developers as it is fairly successful. It works on the idea of publishing free-to-download apps that gather a large number of users over the time, which establishes a sizeable advertisement space.
Once the app crosses a hundred thousand downloads, you can expect to start making significant income by only selling ads. There is evidence that more than half mobile app users around the world click on ads, which makes this a viable option.
Only in US, the mobile app advertising grossed over $33 billion in 2017. The availability of Ad space and smart ad placing algorithms will only increase the scope of revenue generation in this case.
Pitfalls
In-app ads annoy users and often contribute to bad UX.
Not all apps go well with the advertising model. If you have a utility app, the idea of ads acts counterproductively.
Ads can slow down the performance of the app and decrease engagement.  
Freemium Apps 
The next best thing that you can do while keeping the app free to download is offering Freemium apps. This is the second most popular model used by developers and companies alike. You can offer the basic functionalities free for use and encourage users to opt for advanced features for a price.
Apps like Elevate, DesignEvo and Tinder etc have been quite successful in using this business model to drive sales.
It not only lets the users to try the app without any intrusive ads, it captures their trust with the functionality of the app.
Pitfalls
Limiting the functionalities of the free app too much can result in poor sales.
Handing out the core functionalities for free may not generate the need to upgrade to paid features.
Hence, a striking balance between great features and lucrative premiums must be created.
Paid Download Apps
Paid download apps simply mean selling your apps for a fees to the user at the time of download. The process is mostly regulated by App stores such as Apple App Store and Google Play Store.
This model guarantees direct sales as you don't have to lure users into buying upgrades after doing all the hard-work and each download earns a definite revenue.
There is a healthy listing of paid mobile apps that are too good to be ignored and users are comfortable paying for them. In 2017, paid mobile apps generated a revenue of $29 billion in the US alone.
Paid mobile apps often demand a high user rating, a strong focus on the app performance and marketing efforts in order to make the app really buyable.
Pitfalls
The competition given by free apps is overwhelming for paid apps.
Counterfeit stores offer free APK downloads for paid apps. Estimatedly, more than 90% Google Play apps have free APKs around the web.
The costs of developing an app that is worthy of paid-app model are high to begin with.
Apps as a Service
A number of apps are designed to work as a service for the users where they can carry out real world trade or transactions. This model basically provides the apps as a platform to the users, wherein users pay for utilizing it.
The idea works really well for use cases that usually involves a large number of users. There are instances for this model in almost every app that you have on your phone.
For instance, Facebook uses advertising to generate revenue but it's provided as a service to the users. Further, Tinder provides some paid features that enable real life convenience which directly integrates into the app.
We recently worked on a Mobile App that acts as a platform for ideators and businesses to find resources for their app ideas. It's called Thunk and it banks on the same idea. The difference is that its basic usage is free.
Pitfalls
Users may deter from the app and try to find free alternatives.
A large and proliferating user base is required to actually run the model.