There was a time when websites just used to be an address of on the world wide web, but in 2019, they are the forefronts of business culture.
As reported by Internet Live Stats, there are more than 1.9 billion websites on the internet as of December 2018, and the number is increasing at a breakneck pace.
From enabling some of the biggest businesses in the world, to making our access to information easier, websites play an important role in the digital information age.
With the rising popularity of websites, it's now possible to make a website on your own with very little technical knowledge. You can deploy a website by the evening if you start reading about it in the morning with some free website tools.
10 years ago, this was extremely difficult and you had to resolve to a web designer or a web design agency if you wanted a website. The improvements made in web page design tool and the simplification process has made it possible for the common man to own a web property so very easily.
This is the reason why we have so many Online Entrepreneurs today who have set up business empires with the help of a website. Larry Page is a living example who toyed with the idea of the website some 19 years ago, and today we all know what part Google plays in our lives.
It's a lot easier to get there today, especially when the internet is full of generous tools to help you make a brilliant website. We at Dikonia make websites all day long, and we thought of sharing some really resourceful tools online that will help all kinds of people who own a website.
10 Free Website Tools for Website Owners
Kraken.io and Remove.bg – Image Manipulation 
Modern web design is a lot about getting the imagery right. You need some really beautiful images on your website but you don't always find the exact match or the exact size. Well, we have a solution to that!
Remove.bg is an online graphic design tool that'll automatically cut out the part that you want to keep in a photograph and remove the rest.
The primary way of doing this is Photoshop which is equipped with specialized tools to manipulate the background of an image creatively. But with Remove.bg, you'd be able to do that with just touch of a button. The tool is reliable enough and automatically separates the background from the foreground.
Karken.io is another free online graphic design tool that reduces the image size by great margins. There is a downloadable package also available which comes with a paid license but the web interface works equally well and can be used for free for images weighing less than 1 MB.
In our tests, we found an average size reduction of 50-60% with hardly any noticeable difference in quality. If you have an image intensive website, then its really important that all your images are compressed. This would increase loading speed and improve User Experience.
Canva is one of the refined online graphic design tools when it comes to making images for all kinds of purposes. The fun part is that you don't need to be a graphic designer, in order to use Canva.
It has an intuitive interface that helps all kinds of users make appealing images in various size ratios. You can make images for PowerPoint Presentations, Desktop Wallpapers, Facebook posts, Instagram posts, website banners, ad copies and what not.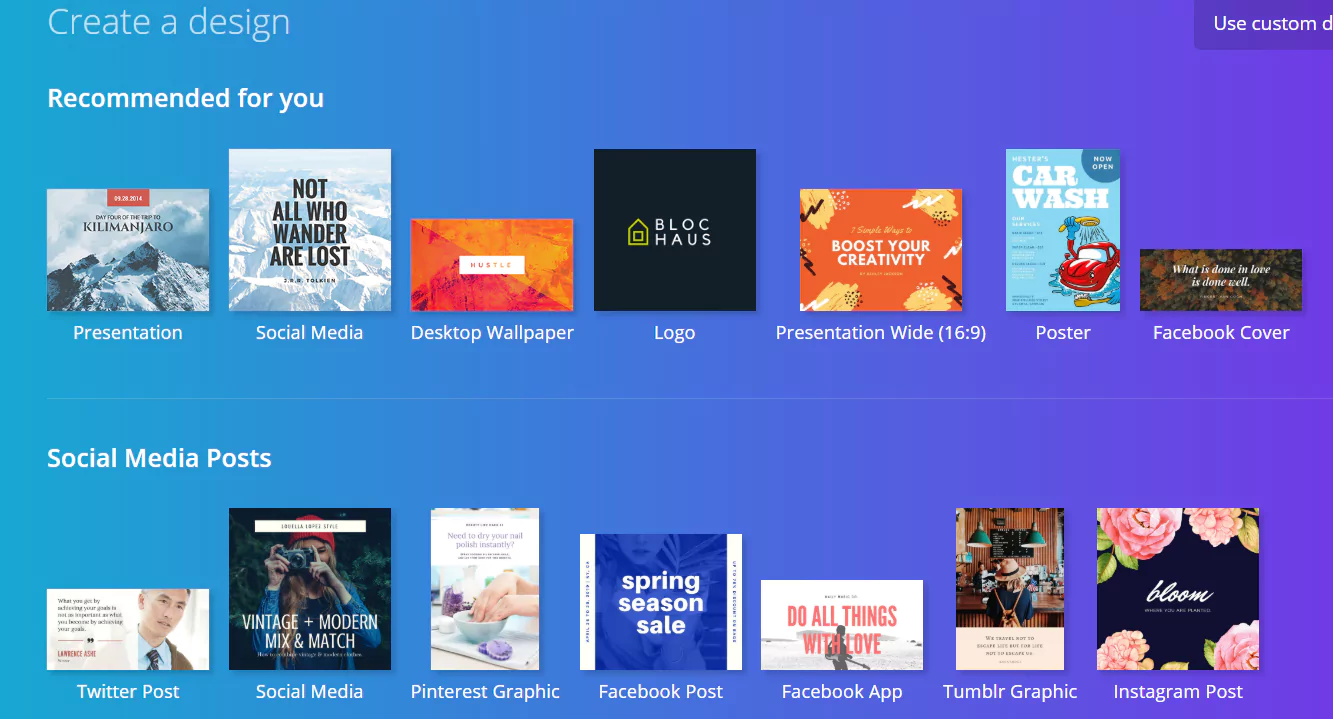 Most of the workflow is simple drag-drop, place, and change the colors. You don't need to draw anything or apply special effects. You get a large library of free illustrations, photos and text styles to be used in images.
All in all, you can make images for any kind of digital purpose without having to rely on software like Adobe Photoshop or Illustrator that are tough to master.
For commercial purposes and business websites, Canva has great pricing plans that open the online web app to newer possibilities.
MadMimi – Email Automation
Have you heard about MadMimi? It's a Godaddy owned company that makes email marketing a lot simpler and very cost-effective. It's one of the best email marketing tools for free.
Madmimi was serving a package for up to 500 contacts and 12,500 emails per month for free for a long time, but they have revised their basic plan to a $10 premium. So, maybe you won't get a free plan anymore but the number of benefits is huge for such low a price.
Madmimi gets the following things right;
Automated Welcome Emails
Highly Customizable Email Templates
Diversification of Email lists
Import, integrate or collect email addresses via a web form
Integrate email opt-in directly in your website using an HTML form
Schedule email campaigns
Get analytics for email campaigns
Email and chat support
Your email campaign designer won't need more than this, if you're running a simplified email campaign. If you need bigger and advanced tools, you can go for the bigger players in the field but Madmimi is one of the best for bootstrapped businesses and individuals.
The key here is a well managed and easy-to-use email marketing solution, and we recommend Madmimi, because it gets your job done properly. It even resolves the POP3 and IMAP issues that may arise if you're using a custom mailbox. Such features can't be expected from a $0 service, therefore, paying a little won't really hurt you.
Screaming Frog offers a suite of website seo tools but the SEO Spider Tool is our main focus here. The tool provides deep insights into a websites SEO-friendliness by crawling it automatically.
SEO is a very important aspect to take care of if you want to stay relevant in the eyes of the search engine. Screaming Frog simplifies your job by making SEO analysis simplified.
You can find broken links, check metadata, work with sitemaps, and even check robot files. All of these things take a lot of labor if done manually and hence, Screaming Frog can make these things easier for you.
You'd be able to better structure your site for SEO and get higher ranks in Google SERPs. Of all the sources of gathering traffic, Organic traffic obtained from Search results is one of the best performing points for most websites.
Screaming Frog's free plan provides crawl for up to 500 URLs that is enough for a medium-sized website not more than a year old. For requirements greater than that, they have a $189 annual plan that offers all the features and unlimited URL crawling.
Answer The Public – Topic Search
Have you hit a dead-end while searching for blog topics for your website? We all have been there and to rescue is Answer The Public, a tool that helps you find 100s of relevant topics associated with your Google search query.
The tool is designed to take a full search query, let's say, "mobile app development" and then fetch public queries regarding it sorted into various question types.
The primary sorting mechanism sorts the queries into Who, When, How, Why, Will, Which, What, Can, Is, and Are. This means you don't have to brainstorm a lot on thinking what your readers are thinking. The Google search data says it all.
With the help of this marketing analytics tool, you'd be able to research topics much faster and even get full keywords for writing your next article. No need to spend hours on searching for one topic to stay afloat, simply think of one idea and get a ton of results around it. All of this for free.
Wix tops the charts when it comes to making elegant websites without the need of a professional web designer. The online web page design tool comes integrated with everything you can imagine in a great drag-drop functionality.
Wix primarily serves static websites. If you need a product page or a company portfolio or a business landing page, Wix can help you achieve a lot without spending a dime. You can create websites as easily as you'd create a Powerpoint Presentation.
Although most of the online functionality is free, you'd still need a domain name and hosting. You can buy it from Wix itself or from somewhere else, which makes it one of the most wholesome web development tools.

The newly launched Wix Ascend suite now integrates several new marketing analytics tools for sales and marketing directly into Wix. Now, you can not only create a great business static page but also collect leads, offer discounts, create workflows and go social, all from one place.
The catch with Wix is the unavailability of dynamic websites. You don't get a CMS like WordPress where you can update blog posts or change the content on pages so very easily. Nonetheless, you get a wide variety of stunning templates, that match the capabilities of professional designers.
Do you own a WordPress website? Here's a special find for you that'll give you access to a ton of features for free.
We're talking about the Ionmag Theme. We bet you're using a theme that offers a lot of things inside it such as customization of pages, easy updates and what not. But so far we haven't used a theme as full as Ionmag for free!
You get control over the general stuff as well as the little things that usually a professional website developer would create for you. The theme comes with a pre-packaged website building tool which supports drag-drop, custom CSS, images, content blocks and all kinds of minor to major detailing.
The theme also features support for ads using Google Adsense or any other affiliate network and provides options for inserting ad codes directly. The Ionmag theme is free for use with all its goodness, but if you want to use an even more professional product, you can use the Newsmag paid theme which goes further into the professional design and adds more template options for your WordPress website.
Tawk To – Website Live Chat
Integrating an online chatbox in your website is one of the latest lead capturing mechanisms that are quickly gaining traction. Especially, if you're a service or a business website that needs to connect with customers more often.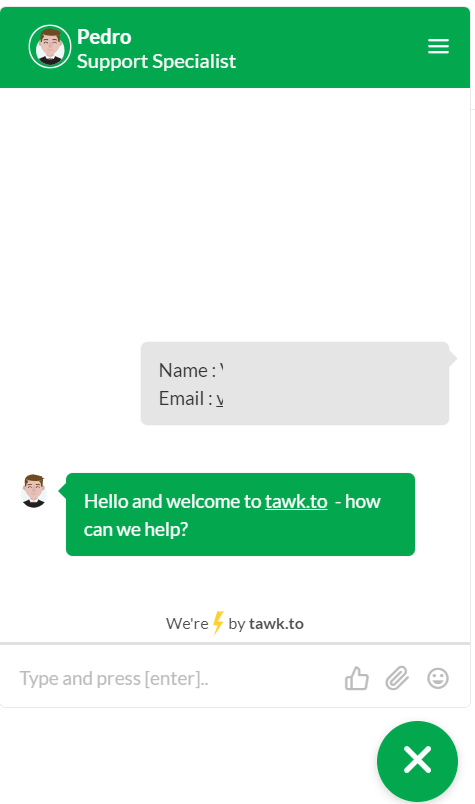 Tawk.to is a completely free website chat platform that helps you integrate a chat window into your website's front page, from where visitors can directly chat with you on various queries directly.
The service claims to be 100% free and offers multiple add-ons for additional features. There aren't any advanced marketing analytics tools available such as automated replies, automated workflows or Facebook integration but you still get a lot out of it.
Tawk.to doesn't have a paid bundle but you can pay an annual fee of $144 to remove the Tawk.to branding from the page. For rookie website owners, the branding won't be a problem, but if you're going to look serious, it'll be a nice idea to remove the branding.
The Hemingway App is a great writing assistant and text-copy refinement tool for the internet audience.
If you haven't optimized the text that goes on your website, you may have made it hard for the internet audience to stick by.
Hemingway App reads your copy and makes suggestions on how to make the text easier to read for everyone. It has a large variety of parameters on which it grades your copy as easy or difficult to read.
Somewhere in between, it suggests how to improve the copy by removing redundant words or replace them with better words.
We uploaded the above paragraphs into the editor and it has highlighted the changes that can be made to it. The current score is "Good", hence the text is easy to read.
In case, you do the writing part of the website on your own, it's a great way to refine the text directly. If you have writers on your team, we recommend running the website content through the app to make it the best for your audience.
OntraPages – Landing Page Generation
Landing page generation is a solemn art of the website business that's not easy to master.
OntraPages is a web page design tool that helps you build beautiful looking landing pages with all key ingredients you can ask for. The easy-to-use page builder lets you customize the landing page down to the text and font size.
The builder comes integrated with additional perks such as web forms and templates, that make it easier to collect leads from the visitors. The landing pages generated through the tool are all responsive and facilitate A/B testing right from within the app.
OntraPages is a subsidiary of Ontraport which is a visual marketing analytics tool. If you feel like upgrading, you can move to Ontraport for better features, otherwise, you can use the features provided in the free OntraPages.
Conclusion
All of these online tools will make your life a lot easier and help you get success with your web venture in the longer run.
If you are facing issues in understanding the above tools or finding it difficult to make a website on your own, you can get in touch with our web design team to get assistance on your new website!