Project Brief
One of the leading Men's Fashion Retailer in Virginia Beach, USA wanted a complete revamp of his website and adds more features for his customers to interact with it. Since, it was a major revamp and lots of new functions to be built; we chose the website to be custom built in Laravel. This gave us the edge not only to build custom functionalities easily but also to keep the performance intact and enhance the user experience.
Miguel's Formal Wear today has a very compelling website with modern elements and sleek design which is becoming very popular with his customers and contributes to his business as well.
We are already into building Business Process Applications for them and managing their SEO campaigns.
Case Study
Enhanced User Experience and Interface (UX/UI) – The previous website had dated design and lacked in user experience and this being the main focus for the client, it was a challenge to live upto the expectations. We did a complete Custom Design starting from the very scratch and built a whole new website with increased focus on user experience as well as maintaining modern look and feel for the website.
---
InfusionSoft Integration – The website has a heavy integration with InfusionSoft which comprises of multiple forms of Booking Appointments, Groom's Preview, Rentals, etc. There are emails configured as Auto-responders in InfusionSoft, acknowledging customers of their request being received and worked on. Also to this, each time a new request is recorded in InfusionSoft, an email is triggered to Admin informing him about the same.
---
Shop Module – Unlike conventional shopping websites, this website gives the luxury to it's users to either Purchase or Rent products. The user can purchase or rent a product and then schedule an appointment with the store for his fittings and other details. PayPal integration with Custom Cart ensures the payments are done securely and users are able to checkout easily.
There are lot more Shop and Product Features coming soon for the users to get most out of the website.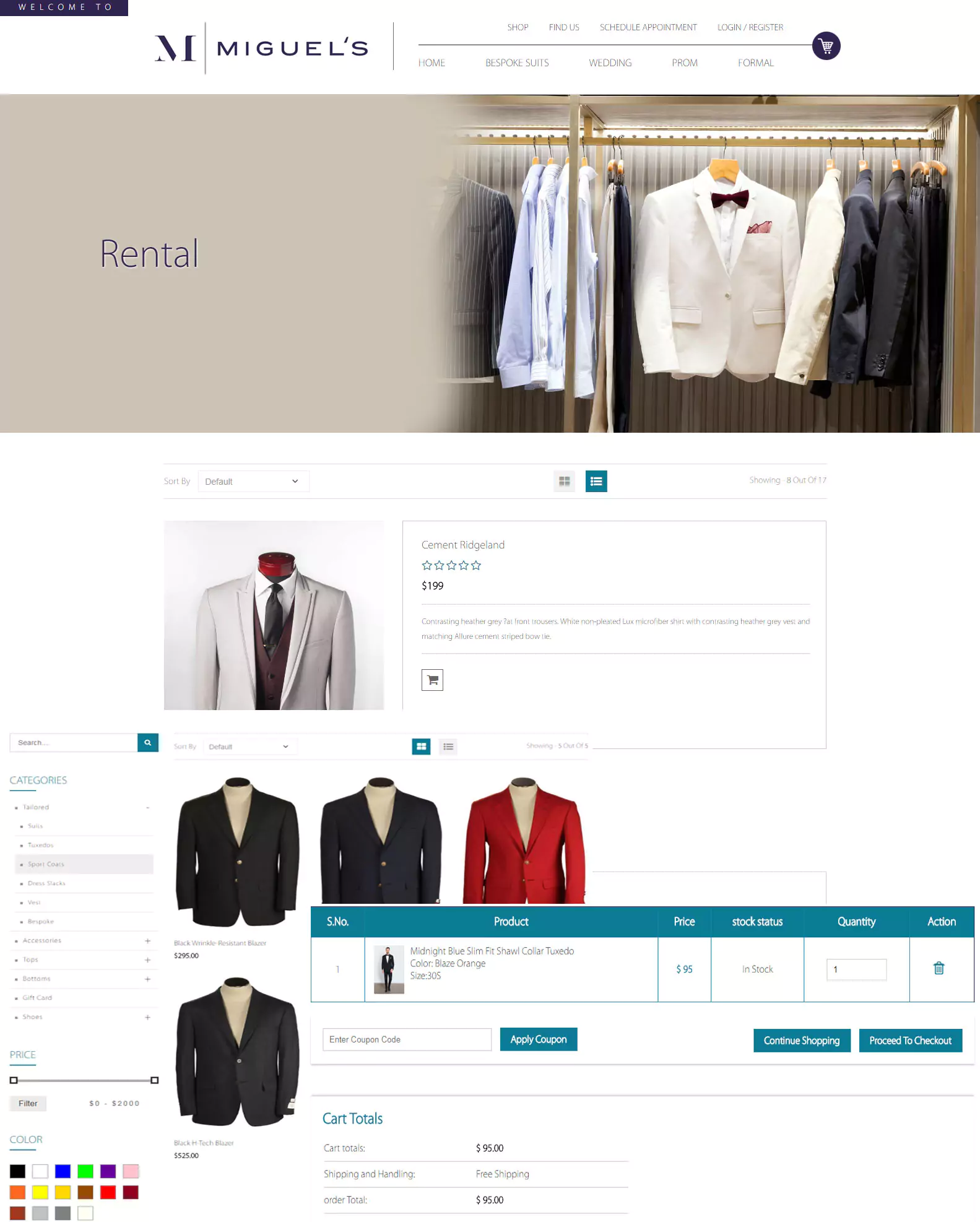 ---
Products & Accessories – Being a complete Men's Fashion Brand, there are lots of different types of products on the website and different products for Purchase and Rental as well. This makes the product database more complex than usual with application of various filters like Colors, Sizes, Price, etc.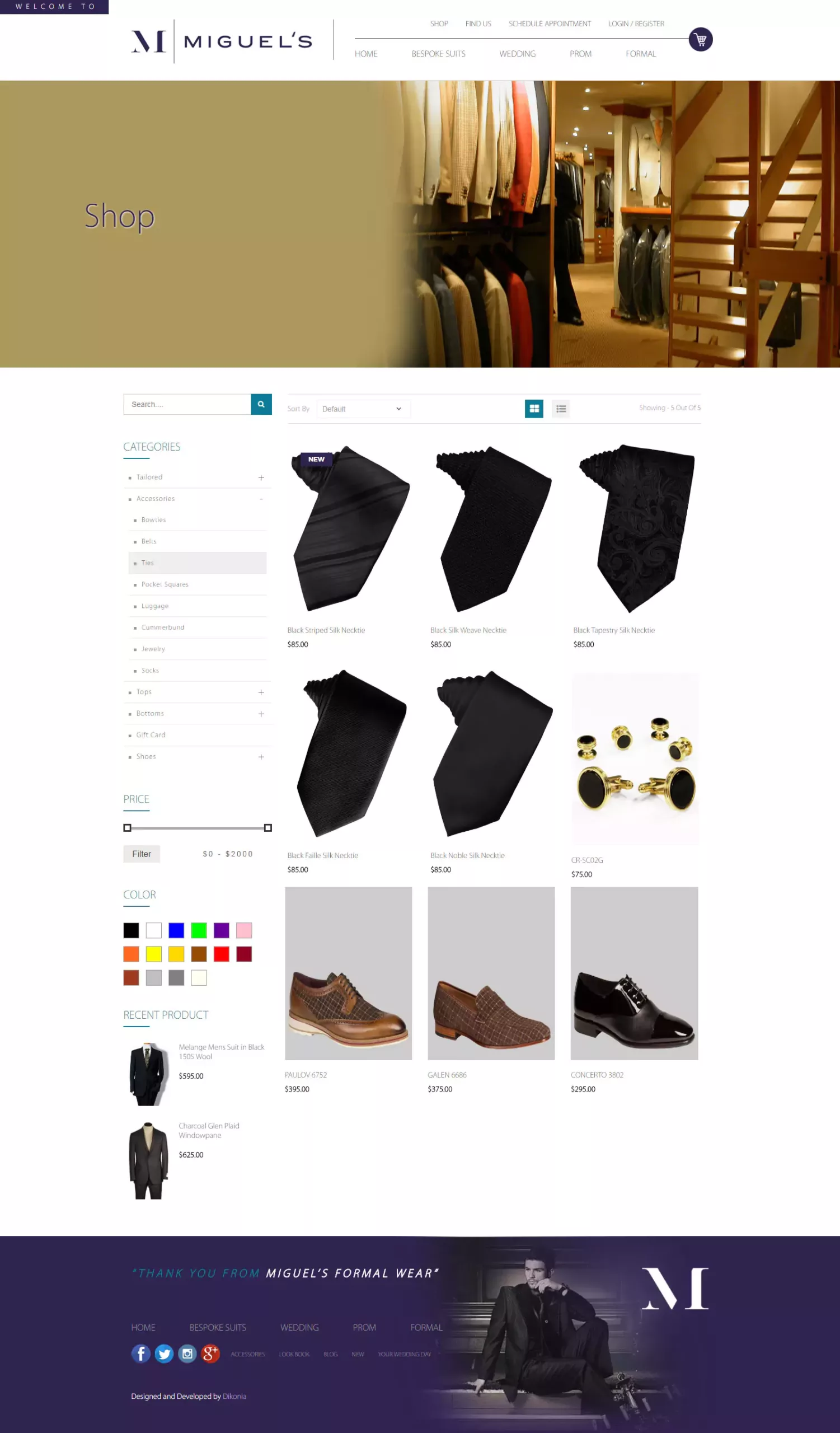 ---
Detailed Admin Panel – It was also to be ensured that the Admin was able to communicate with the website and could manage the products, orders, customers, website content and everything else. We chose a very detailed ecommerce theme for the purpose which integrated very smoothly with our website satisfying all the customizations necessary.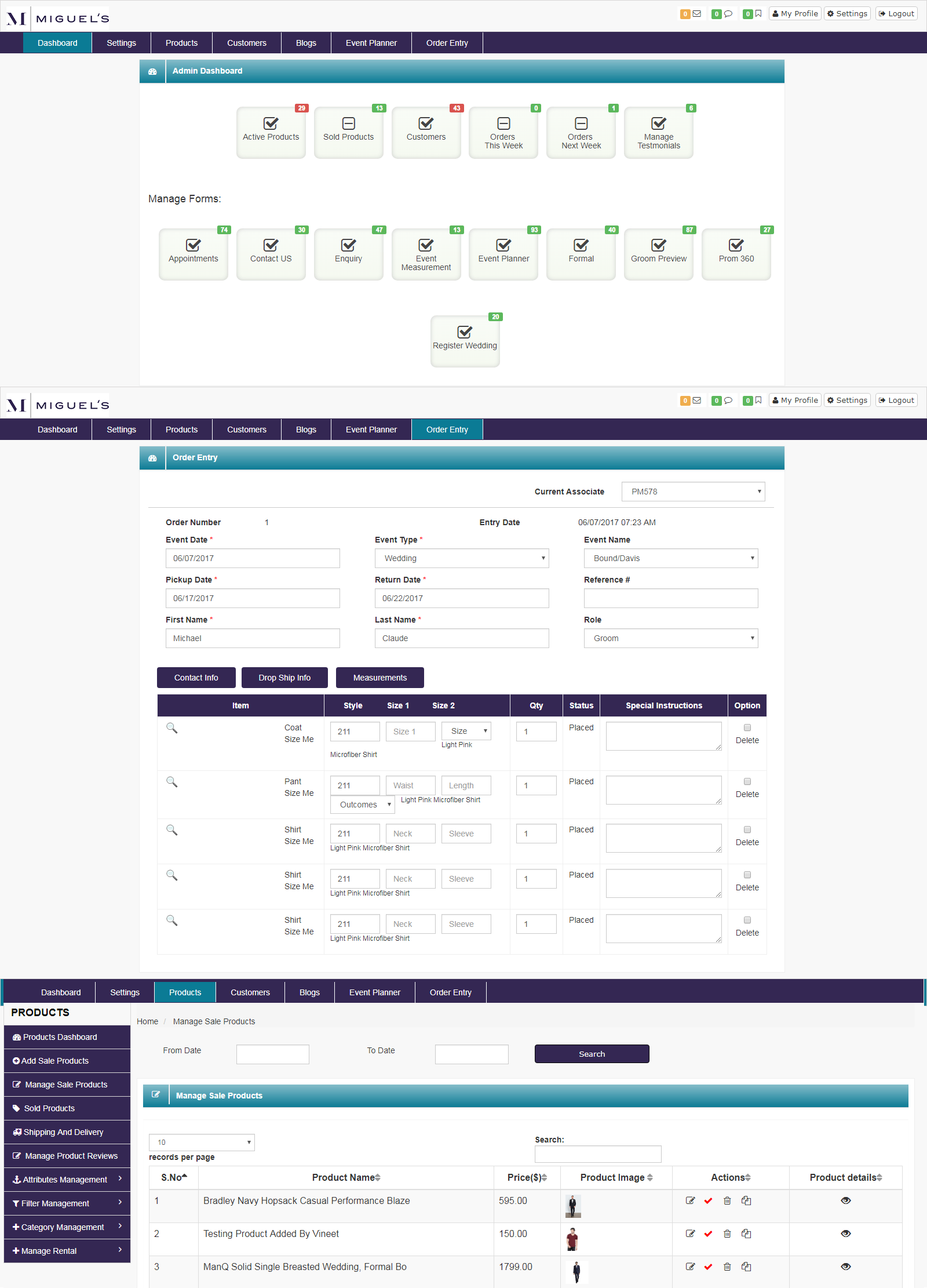 ---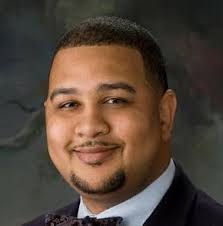 Michael Claude
Project Owner Miguel's Formal Wear
It's been a great joy working with Dikonia. Before coming to Dikonia I worked with companies promising they were able to assist me and complete the work at hand, but this was not true. Dikonia was able to take our Vision and bring it to reality. The team has been very responsive and excited to assist us in making sure we were completely comfortable with the entire process.