Project Brief
A custom Enterprise Resource Planning (ERP) web application was built for Eviva Ltd., a UK based engineering solutions firm. The application was built to automate, and make accessible various business processes that help the firm keep track of several aspects of day to day running of their operations. This includes billing, human resource allocation, financial estimations and document management. The extensive system was built after thorough discussions to understand the underlying principles and requirements of the business operations undertaken at Eviva Ltd. The outcome is an ERP application that is insightful and efficient, helps with cost cutting, and with identifying of resource allocation.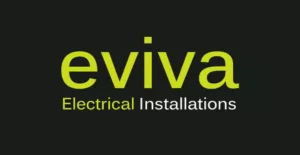 Highlights
Dashboard – Since, this application is housing complete Business Process Automation of a well-established Enterprise, it was to be ensured the Dashboard allowed a quick access to all the frequently required operations and statistics in the work process. A complete custom Dashboard with different graphical statistics, Notifications and ToDo list was built giving complete insight of the business. Apart from this, user can also change Dates to review his ToDo list and received application for payments.
---
Settings – Unlike other applications, Settings in this application plays vital role for the user. Settings page is fully customizable by Drag-Drop functionality allowing Admin to arrange the settings as per his suitability. User can add new categories of settings and add any settings to it. There are settings in control of the user that can impact the operations of the complete application and business setup such as Managing Financial Year, Manage Cost of products and overheads/margins, Initial Business setup settings, Managing Folders, Configuring HR rules and much more.
---
Job Management – This application is aimed at complete Business Process Automation and accordingly has it's one of the most important modules built. Job Management module apart from allowing user to create and assign jobs, change status, etc also allows some important functions for each job. For ongoing jobs, user can View Worksheet, View Job Cost sheet, Generate Invoices & Purchase Orders, etc.
Job Cost sheet allows user to have knowledge of cost of each resource and material being used in the job. User can view purchase order, invoices, supplier and other details of each cost categorized under different heads.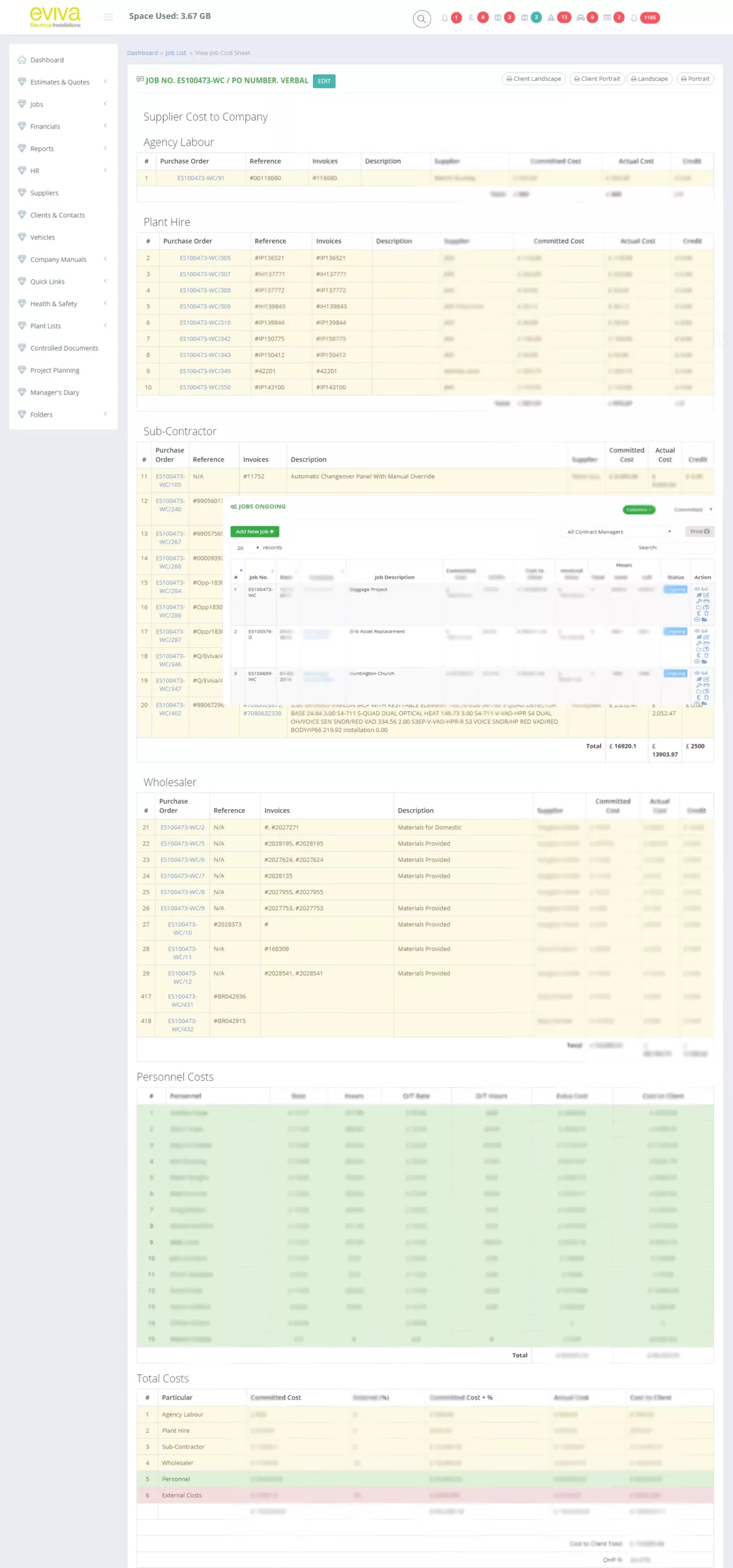 ---
Holidays – A detailed module of holidays that allows user to view approved for calendar month for all employees with different color codes of different holidays. User can also view report of complete year for each employee with details of total number of leaves opted, type of leaves opted and remaining leaves.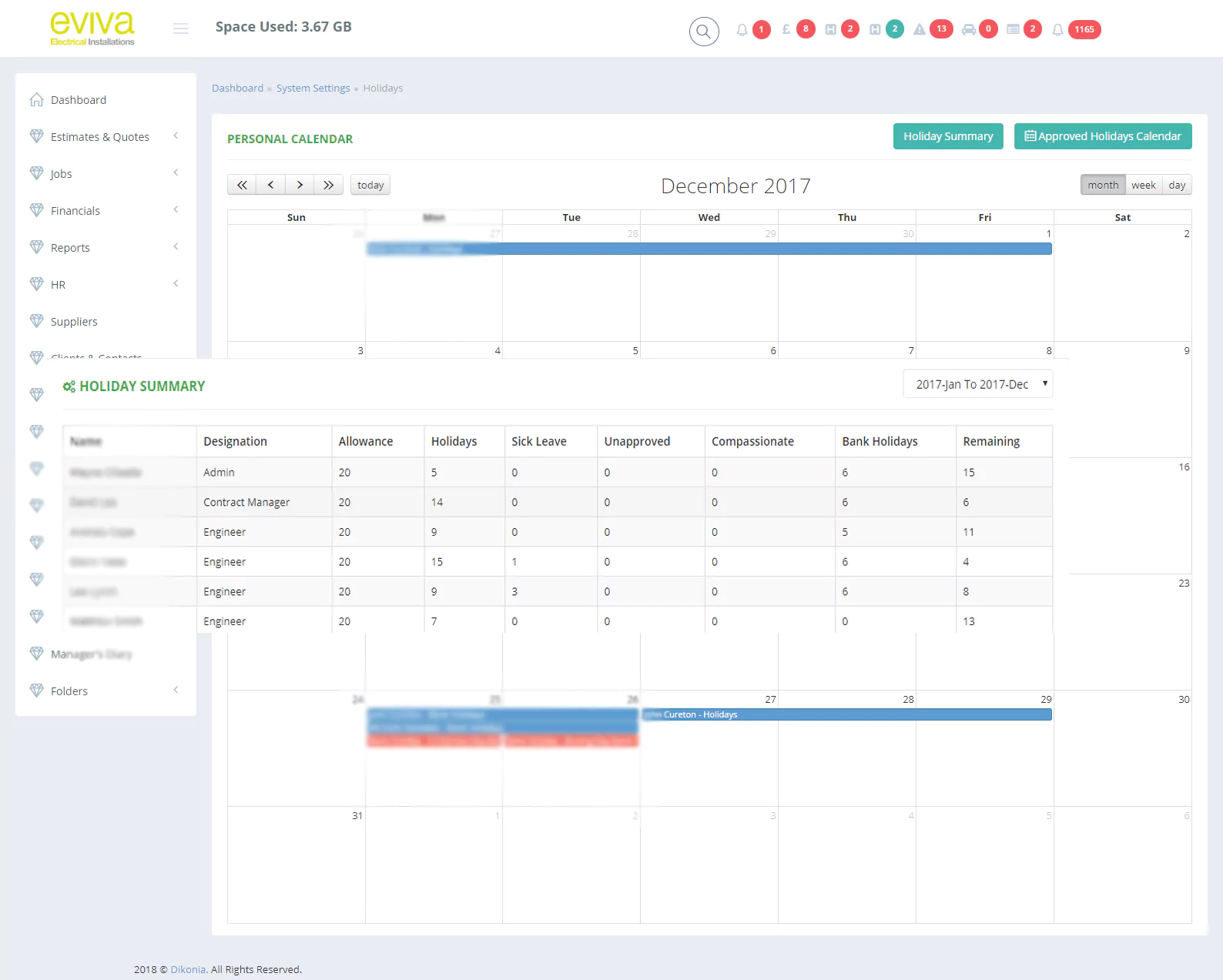 ---
Financials – Another module serving in the application is of Financials also very important and has to be very precise in its working. Our expertise in Financial modules and applications was put to good use building this module. One of the major feature in this module is Cash Flow Sheet.
Cash flow sheet allows user to view complete finances of the organization with details of expenses incurred each month, sales and net profit/loss for each month, etc. User is also able to edit Cash Flow sheets with ability to Add New Expenses, hide budget and enable/disable color coding.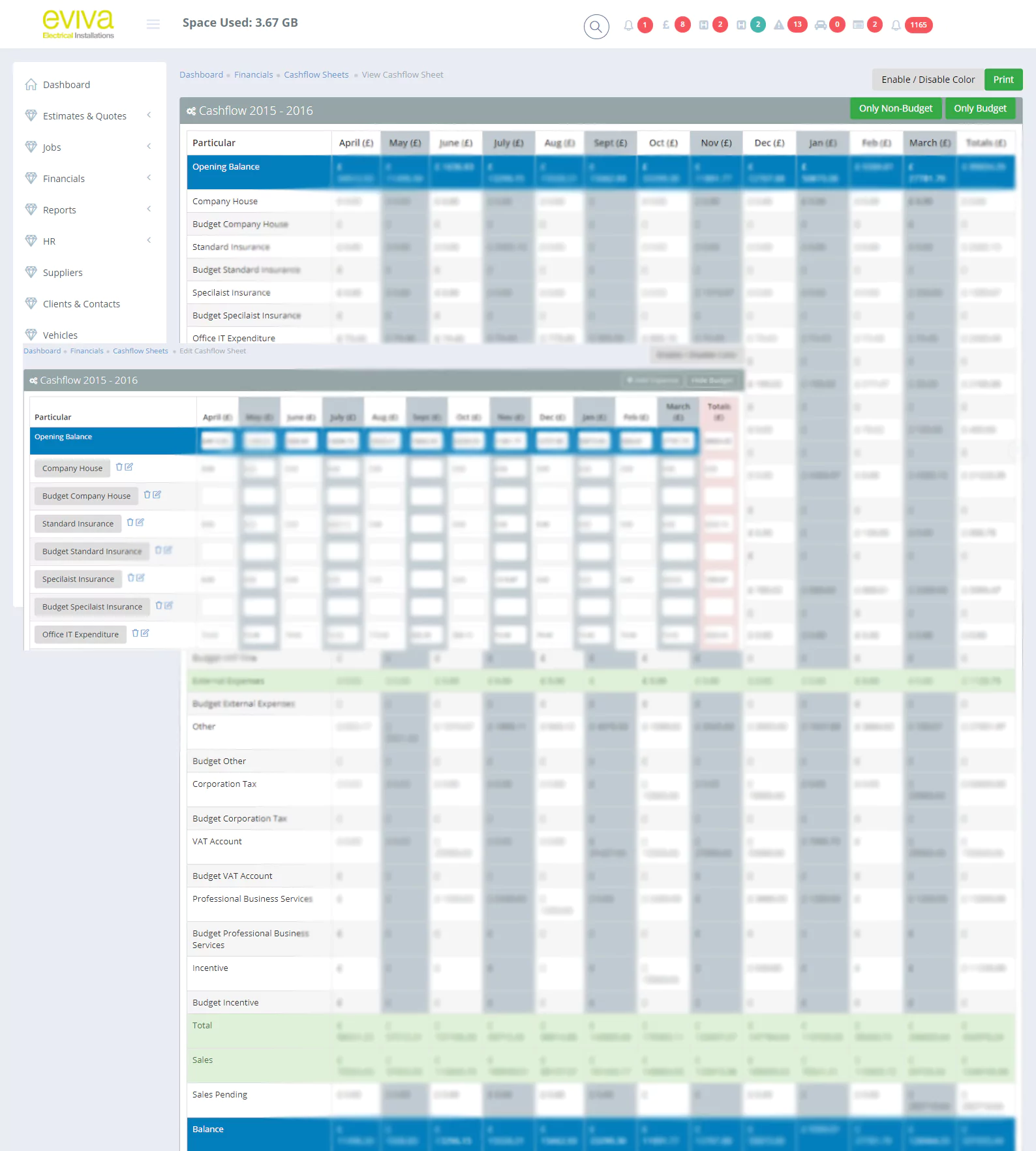 ---
Notifications – As simple it may seem but there are lot of notifications setup to keep the user informed at all times. Notification is triggered when a Worksheet is submitted, Invoice or Purchase order is generated, service parts of vehicles, to-do, etc.
---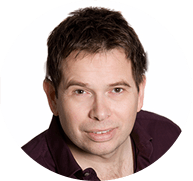 I have been working with the Dikonia team and with Chhavi over a period of 3 years on various software projects. The duration of the time we have been working together is a testament to the service provided by the team at Dikonia, As a client we expect a high level of service and quality and to date this is what we have always received from Chhavi. Strengths include; being able to understand our requirements in layman terms and turning these into reality through the software that has been produced for our needs. I can comfortably say that the software that has been developed for our business by Dikonia has enabled us to reduce our existing systems by at least 50% and thus reducing our costs to our business. Where the real talent lies with Chhavi, is her ability to take your idea and make it a reality to assist your business development.