How do you manage to expand your client base?
What is the best marketing metric?
Well, of course, word of mouth!

But, how do we build the reputation and business approach which can help us with this?
Well, it seems like we have pretty much cracked it :-). We are very proud to share with you that our client retention rate is 90% and almost 95% of our clients are happy with what we are doing with their projects. Our job success rate on Upwork is also 93%


Dikonia is renowned for providing IT services to various agencies and businesses across the globe. We focus on availing the much-needed transformation for the clients. With controlled costs and growth focus approach, the team helps in giving reality to the requirements of their clients.
When you are outsourcing there are countless hurdles, as for every new project you are required to start from zero.
Just like the game of football, every time you start with a zero but a little more experience!
We wanted to share some of our "STAR" projects with you, and these are the ones we take immense pride in.
Dikonia initiated the software building process by a simple 7-8 week project of "KPI Management", which has come a long way to being a whole HR management software.
The client was so delighted by the performance of the first project that now it has been 4 years since Dikonia is working with Aspect Studios, on multiple projects.


The making of a very exciting project called "HR Tools", became a mind-blowing experience for team Dikonia. HRTools is used day-in and day-out by all of Aspect Studio employees, across it's multi national office. There are a number of modules in this project, and each one is purposed differently.
I would strongly recommend you to take a look at the project details. (Click here)


Dikonia developed a comprehensive, user-friendly model to keep track of company employee using Core PHP, Ajax, and JScript technologies. There were numerous modules facilitating not only customer/client activities but also maintaining a record of hours utilized.
For their business of Food Ordering, Turnip, a growing startup located in Switzerland, required an online portal for which a payment gateway integration, Android app, Web app, iOS app and much more were to be developed from scratch.
The client was thrilled with the work.
Look for yourself,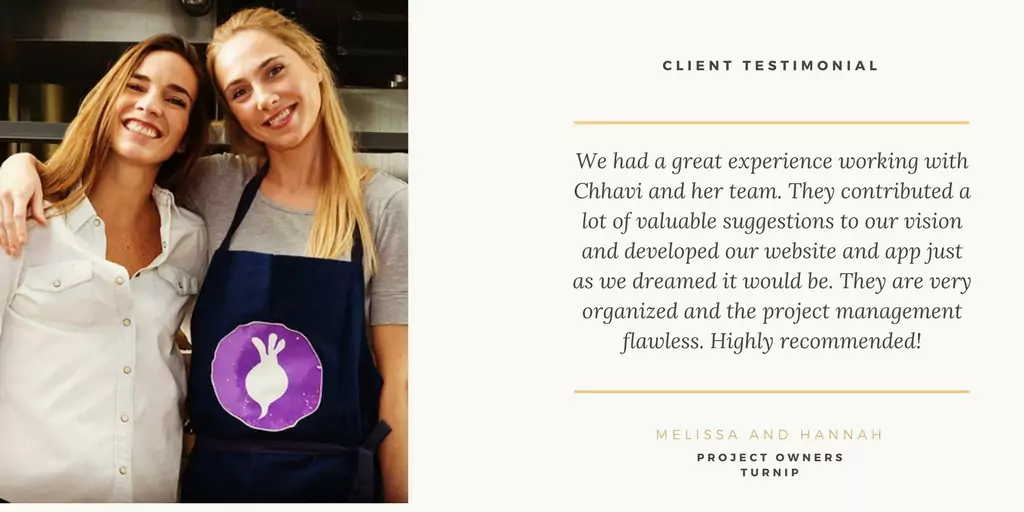 The project is synchronized real time and has a highly comprehensive back-end.
The development technologies for these projects included CakePHP and we used MVC advantages to the fullest.
This projects had numerous tricky parts, and the first one was building a User interface for the web with similar elements. It has all the functionalities in accordance with the trends and technology.
Whilst being extremely user-friendly, Turnip' look is also a treat for the eyes.
3. MIGUEL'S FORMAL WEAR


To harness the leading edge and enhance its growth, this U.S. based Fashion retail store in Virginia Beach, Miguel's, got its website redesigned.
From within the idea of their project, Dikonia gave the website a whole new look and it worked quite well.
The website's bounce rate decreased from 54.91% to 43.27%, on the top of which their conversion rate increased up to 100%.
Dikonia recently started providing them SEO services as well, and they are getting more leads than ever.
We will share the stats soon!
4. SPACIO REALTORS


Spacio Realtors is a real estate consultancy and broker service providers located in Mumbai. Dikonia enhanced the digital powers for the firm and brought unbelievable business benefits.
It has been a year since Team Dikonia is working with Spacio.
Combining the efforts of social media marketing and SEO, Spacio saw a visible increase in profits and leads.
Here is the record: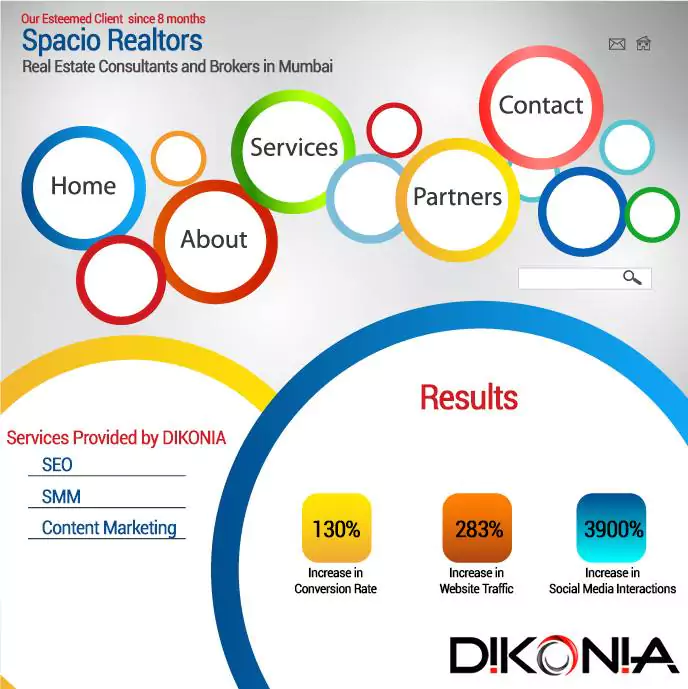 For Electrical installation firm, EVIVA, Dikonia created Business Process Automation solution from scratch. Taking the human factor away, Dikonia developed a user-friendly application that could meet the requirements of the company. Every single aspect of their business is included in the application holding an enormous database.
The Android and MVC based Web applications are constantly updated by the development team. From holidays, cash flows, Inventory, to human resources and job planning, every dimension is automated and effortlessly accessible to every employee.
BPA transformed their business to the one where errors are few and far between. And, the company's productivity went up by several notches.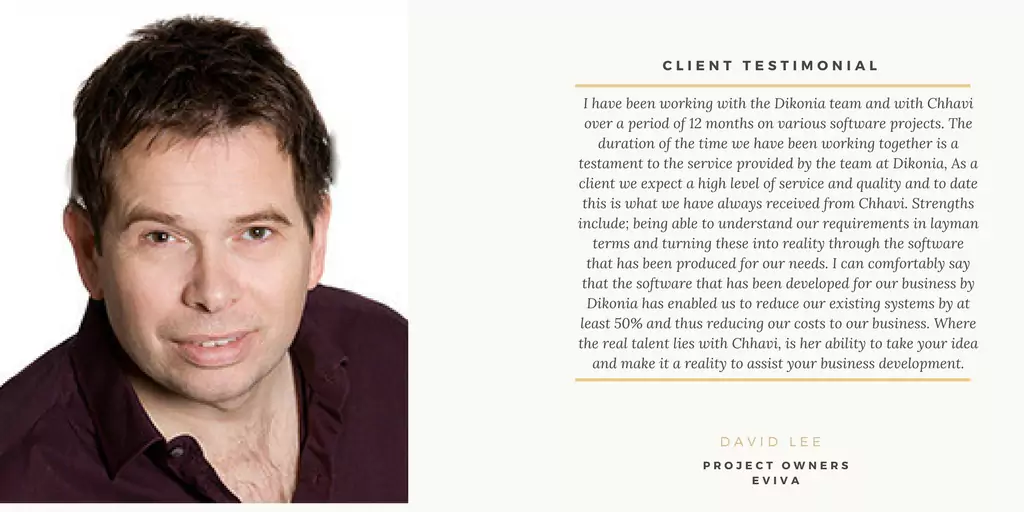 6. TRANSLATION EXCHANGE LTD.


For better agility and record keeping, the company provides native linguistic experiences and is situated in San Francisco, required to sync its database.
Dikonia did the third party integration of its vast database with Hubspot whilst interlinking database queries.
It was a tricky job, with a huge database, complex techniques were required to make the accessing error-free.
It has only been 15 days, working on this project but the team is cock-a-hook at being able to unravel the unprecedented project.
The developer's wit did a great job in making things work for the best!