It's that season again!
Christmas is here and we at Dikonia are all charged up to celebrate this beautiful day with fun and frolic. As a part of our office traditions, we work hard and party harder, so you can guess that Christmas eve will be equally enthralling!
BUT THERE IS A STRONG REASON FOR IT…
Festivals usually celebrated around a folklore or a good old legend that brings delights to everyone's faces. While we duly respect the concepts associated with Christmas, we like to dedicate the celebrations to our success as an organization. We have stayed together in harsh times and have unanimously steered the company to higher grounds. That is why we celebrated Christmas 2k17 with a lot of exciting things.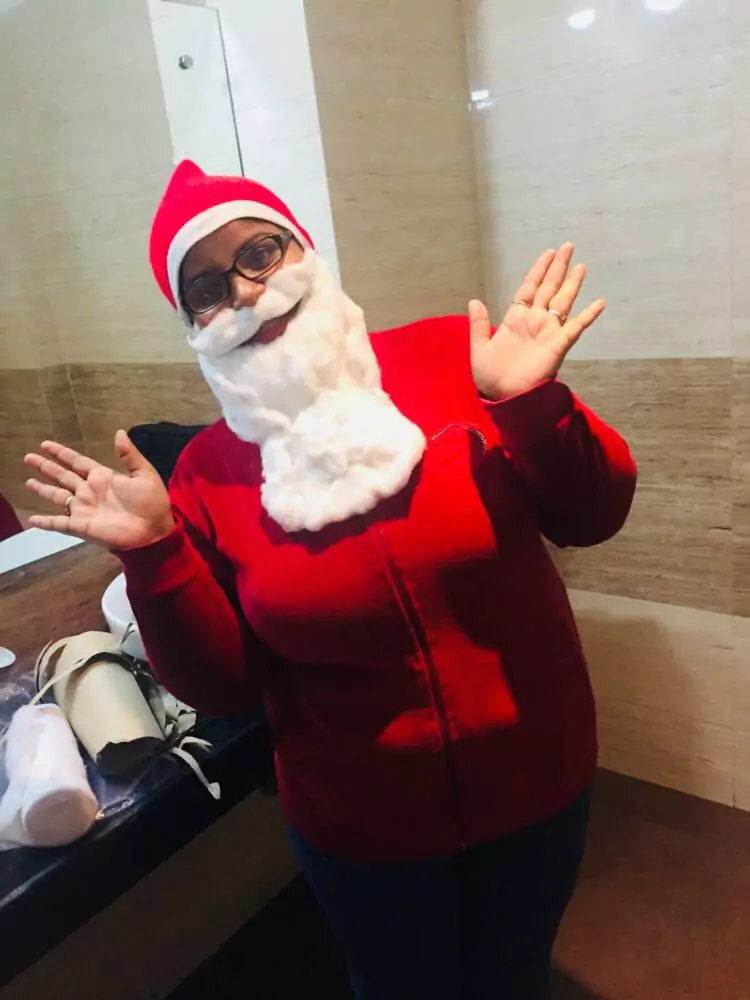 TO START OFF…
Starting off with the fun, everyone assembled at the reception, after wrapping up their work. To really feel the Christmas vibes, we started decorating the office with tiny dazzling decoratives and made the atmosphere all green and red. To add to that, the dress code for the evening was kept red and white, so that everyone could blend in Christmas colors!
The Christmas Tree was the main highlight of the celebration. The team really enjoyed doing something creative out of their professional skin and spent a great time decorating the Christmas tree. Priyanka, our amazing designer took in charge of this activity and guided us on how to do it. Although, we didn't listen to her much, however, yes, it was quite some fun!
But Priyanka wanted to make sure that the office didn't miss out on any element of the Christmas season, hence she dressed up as a snowman and posed for some amazing photos that we took here in the office. I can say that this is the first time, I have seen a decorated snowman or snow-woman in my life!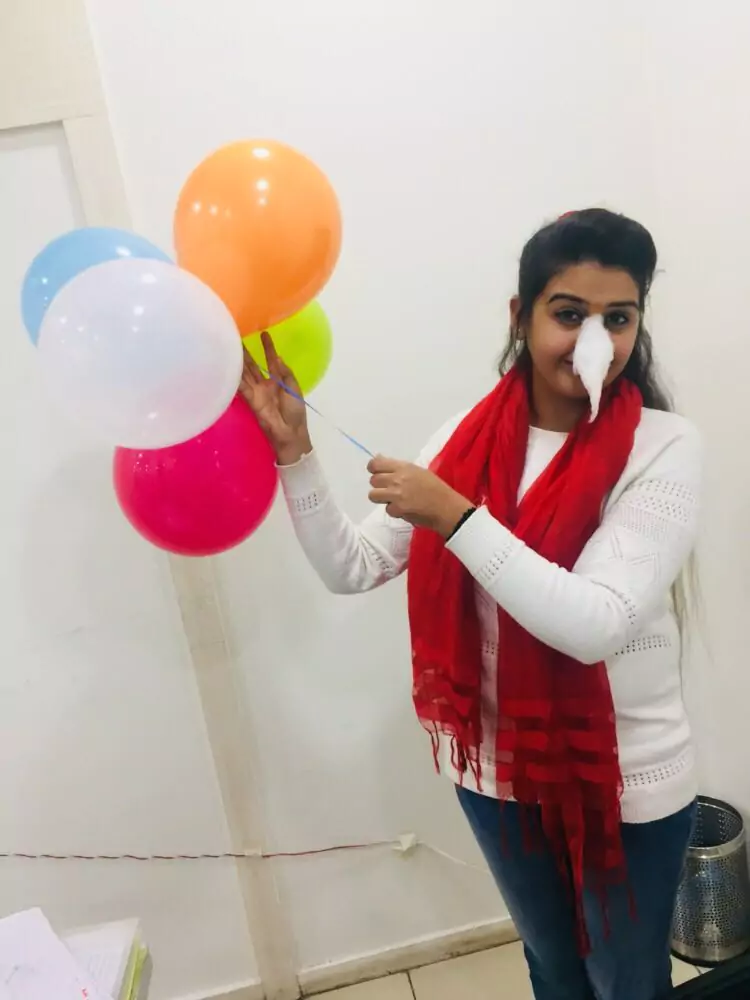 What is Christmas without Santa? Isn't that true? So, to make up for the old man, Anupam, our budding software tester came in the front to dress up like the Santa Clause! Woman power, I tell you!
GAME TIME!
So, once the office looked like a Christmas parlor and the Santa Clause was already among us, it was time to add some action to the evening. Our HR Manager, Nancy, was ready for her planned games for everyone that made the evening a lot of fun!
THE LUCKY TREASURE HUNT
Presents and Christmas, go hand in hand, and there is no reason why we would be leaving them behind. But wait, ain't no one getting anything for free!!
So, our first game was The Lucky Treasure Hunt. Nancy had hidden a little Santa Clause replica toy somewhere in the office and everyone was given a clue about that place. The clue would lead to another clue and so on, one would discover the Santa.
Whosoever will find it, would be rewarded with a special treat by Nancy! Seriously, this game was so so much fun. Everyone was giving their best guesses to find the Santa. Aastha was crawling under the desks, while Diksha was rummaging the cupboards. Even Sajal Sir was struggling with the office storage compartment to find it. It was funny and exhilarating at the same time. Vineet went outside to ask the watchman if he knew anything, but bad luck, Mr. TL, your efforts went in vain.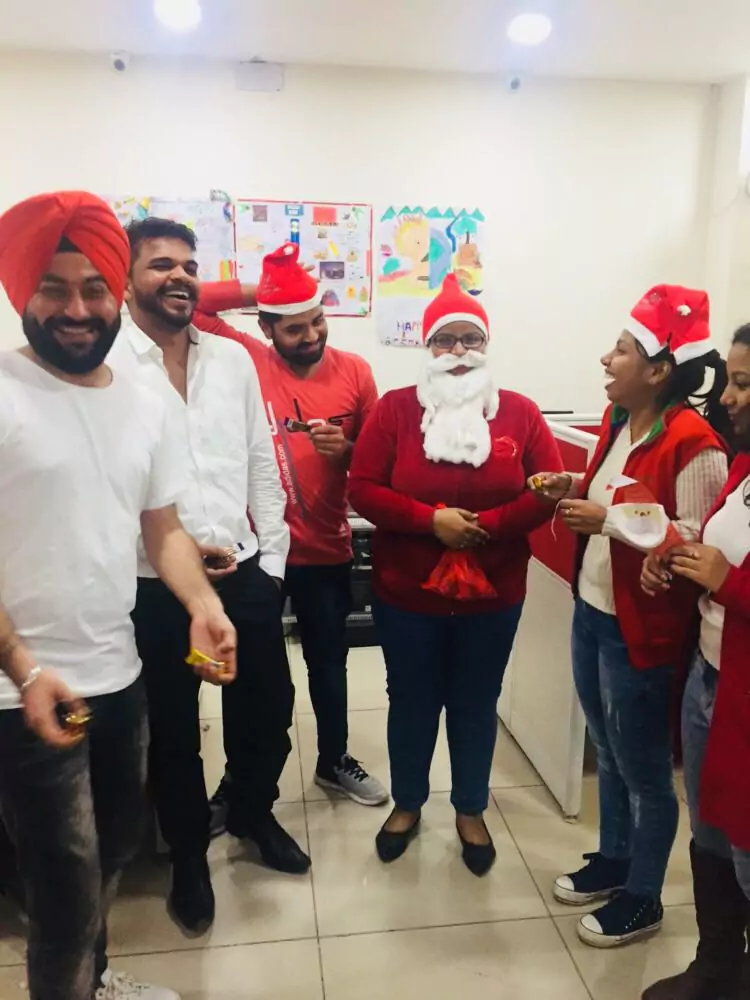 So, finally, after a lot of failed efforts and wild guesses, Aastha, did it! She found the Santa to where it belongs – the Christmas Tree! Sure, no one guessed it would be there! But yes, you could always come up with something unexpected to get lucky, isn't it?
TIME FOR THE TREAT!
After several other games and shots of laughter, our tummies had started growling and it was time to treat them with Christmas deliciousness.
We sat around the Christmas stories to share bedtime Christmas stories with a piece of Plum Cake and other snacks in our hands. Eating and laughing at your office leagues, is one of the most beautiful experiences in one's life and we sure enjoyed it!
We had also brought chocolates and brownies, made especially for the day. Well, the pantry microwave oven isn't only to warm our lunch-boxes! The brownies came out really nice and soon the office space was filled with their roasty fragrance, one you'd expect at Christmas!
SHOOTING OFF EACH OTHER
I guess we had too much fun for the day and we thought, it would be a great idea to shoot each other off! But, with camera folks, what did you think?
So, in no time, our girls turned the office into a pro-photoshoot booth and everyone took out their smartphones for some colorful selfies. You can check out these pictures on our Facebook page and you can easily make out how much fun we had celebrating this Christmas!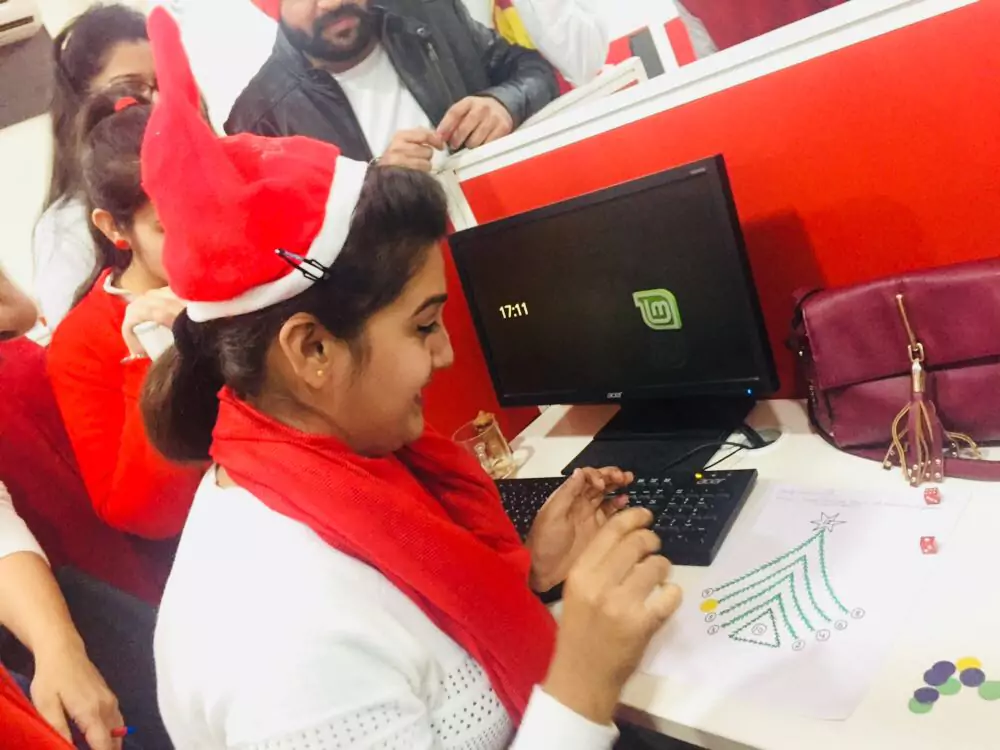 At the end, we hope you too had a great evening with your near and dear ones, and we pray that the Santa brings a lot of presents for you!
A very merry cherry Christmas to everyone from Dikonia and a happy new year!